Swimming to Manhattan
A personal journey to Spalding Gray's Memorial Service in NYC
Lincoln Center for the Performing Arts
April 13th, 2004

by John Boland (aka 'Ratz Garcia')

Dedicated to Kathie, Melissa, Theo, Forrest … and Spalding
---
Days 19 and 20 – I Got the NEW ARK Blur
(suggested music – 'Time of Your Life' by Green Day)
Ok – let's get this straight. Just like the fuzzy speakers at airports. You don't see people eating much in TV and movies. Usually, right?
And remember I was going to not eat as a way to save money. So rather than bother with it later, this is what I ate in eight days in NYC:
Two breakfasts – both at a really good place in East Village which I can't remember name of…

One lunch – had to have the tuna at… - really good place – fantastic food, staff is amazing, and the models looking at their portfolios wasn't bad either - Grey Dog's, 33 Carmine, between Blecker and Bedford.

One dinner – at John's Pizza – for three reasons:


in the guide books
I like the name!
Woody and people got their pizza there...alas IT SUCKED

One bag beer nuts waiting in line at Late Show with David Letterman
THAT'S IT! Plus mucho bottled water – oh I forgot Sunday Brunch at the Russian Tea Room but that comes later…almost five out a possible 32 meals!
Walking into the Bowery Whitehouse inspired feelings I'd never had since staying at a hotel in Tetouan, Morocco… enough said – nah, you gotta hear the story of Tetouan. It's just as you cross from Spain, very scary place, worse than Tangiers (you want nice in Morocco you take the Marakech Express). So it's midnight off the ferry, got a lift into town in a hippie van, who gave us a chunk of hash and dropped us at a cheap looking place. It was cheap – there was a sink in the room but it was all smashed up. So we sit back and get very stoned. Knock on door – police are at desk asking for our passports. The police man is even scarier because he just has on one of those big jalolabads that cover his face, making him look very ghost like. Turned out to be a nice guy and there were no problems. But the feelings then were the feelings that night getting a single room at the Bowery (with one thin Bowery blanket).
Next day, I wake up and realize that the big advantage of a tiny room is that you want to get out fast and do touristy things. Here's a pic of the room and hall: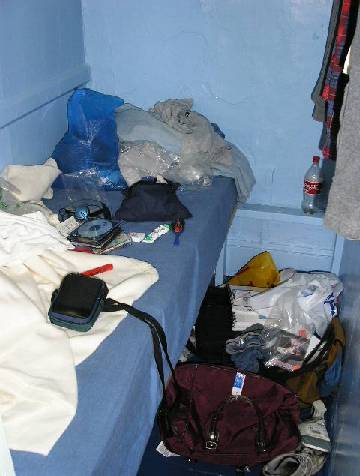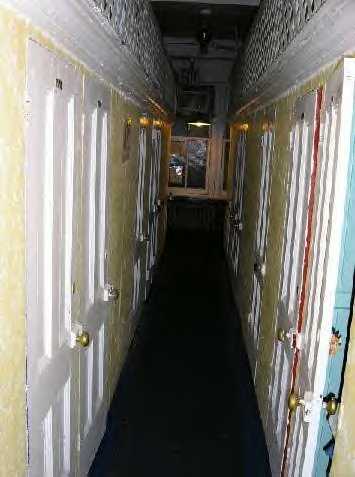 So I meet this very nice Swedish traveler and decide to go to the one place I put on my 'don't go' list – the Twin Towers… But I wanted to get used to walking around New York and the subway. The same person who at European summer school tour at 16 years old was the only one allowed to tour Paris and London by myself.
The Twin Towers – you really have had to be there to imagine the scope of the terror. I have a friend who says that the attack never took place. I think the theory that there was some conspiracy is way stronger. I saw the 20 acres. They seemed to be building something. What a shame. Leave it as a park in memory of the innocent who died.
I'm back at the Whitehouse again, drinking my Cointreau and trying to find something remotely like a microbrewery beer. Good luck.
The next day, I decide to subway to Central Park and walk the about 80 blocks back. I could remember going to Central Park as a kid and having a picnic, and I walk by the restaurant I suddenly remember my dad at.
At Strawberry Fields – the John Lennon Memorial inspired by Yoko. And here's me, picture taken by the 'Mayor of Strawberry Fields'. I forgot the peace sign!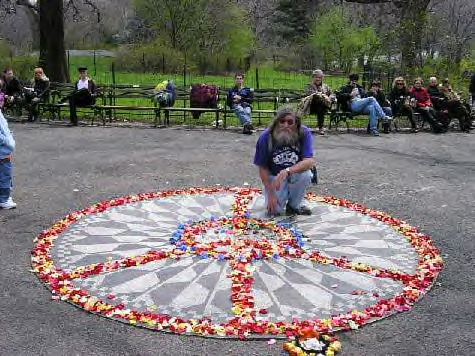 ---