Spalding's Ireland
This page is about Spalding's experiences in Ireland and in particular about the car accident that Spalding and Kathie Russo had while in Ireland to celebrate Spalding's 60th birthday. Spalding received frontal lobe damage to his brain as well as severe damage to his sciatic nerve. Ms. Russo has stated that the emotional and physical pain that Spalding suffered was directly related to his eventual suicide. Spalding was also dissatisfied with his treatment in Irish hospitals so this page also refers to those experiences. Spalding wrote and performed the monologue Black Spot which was later called Life Interrupted, about his experience in Ireland, and performed briefly in NYC before his death. An unfinished version is available on Amazon and Abebooks.com (both have affiliate links on this site which supports a Scholarship Fund).
Please see the Affiliates link for details.
Please note that without the help of Irish fans of Spalding, this page would not have been possible.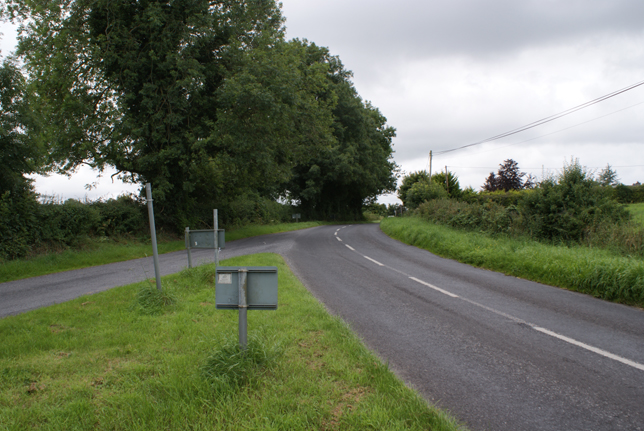 Picture of Black Spot copyrighted
This is an exclusive picture of the Black Spot where Spalding had his car accident in Ireland.
A black spot in Ireland is a spot where serious and fatal car accidents have occurred.
Sometimes they have a large sign. This one did not have any marker. Any visitors to this spot should proceed with extreme caution.
At the time of the accident, the sign on the lawn showing the proper direction was not there. These roads are very hazardous. Reports are that the accident which killed a young boy at the same corner one year prior to Spalding's accident are apparently inaccurate. That other black spot is approximately one mile away.

After Spalding returned to NY, an Irish radio station did a phone interview with Spalding about the accident
and his experiences in Irish hospitals. This is an excellent and controversial interview.
Exclusive use of the transcript of this interview was purchased by an Irish fan at great expense. Audio is not available for sale.
It is very important to realize that this interview has very strict copyright laws and is for the exclusive use of wwww.spaldinggray.com
- the radio station is very serious about their copyright.
Link to Radio Transcript (pdf) - (strictly copyrighted)


Further Irish articles about Spalding - performances, disappearance, body found:

Article on search for Black Spot by a fan - Aug.1, 2010:
Man interrupted: tracing Spalding Gray's black spot (docx)
Swimming to collision on Scotts Movies.com
Spalding Gray's Widow Kathleen Russo: 'Irish Car Crash Sparked Suicide' - from the Post Chronicle, 2010
Link to The Irish Times - Friday, July 21, 1995 - Review (pdf)
Link to The Irish Times - The Irish Times Jan 30 87 - Review (pdf)
Link to The Irish Times - July 21, 1992 - Review (pdf)
Link to The Irish Times - July 22, 1995 - Review (pdf)
Link to The Sun - Obituary (txt)
Link to The Register - Obituary (txt)
Link to The Irish Times - January 24, 2004 - Disappearance (rtf)
Link to The Irish Times - March 13, 2004 - Body Found (rtf)
Link to The Times - Feb. 17, 2004 - Body Found (rtf)